Event announcement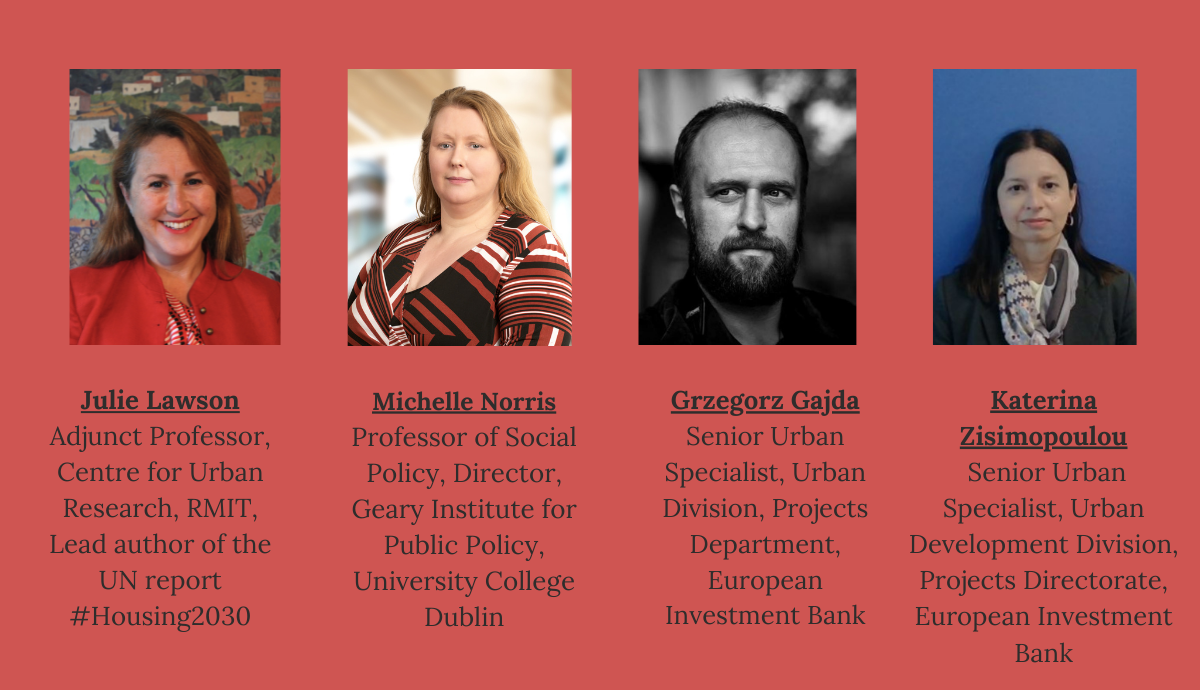 How to create affordable and inclusive housing for all? On 9th of June, we will discuss it with the authors of #Housing2030 report.
#Housing2030 is a joint international initiative of housing experts from over 56 governments through UNECE and UN Habitat and 43,000 affordable housing providers and neighbourhood developers represented by Housing Europe. It aims to improve the capacity of national and local governments to formulate policies that improve housing affordability and sustainability. #Housing2030 shows how policy makers can improve affordable housing outcomes and at the same time play a constructive role in addressing ongoing climate change and stimulate the social and economic recovery now demanded by the pandemic. https://www.housing2030.org
We are working to find sustainable solutions for housing reconstruction in Ukraine within the framework of the analytical and discussion initiative Re.Housing for Ukraine. The invent is a part of this initiative.
We will discuss:
What is #Housing2030? Who is behind the report? What are #Housing2030 main goals?

Why are investment and finance tools important to affordable and inclusive housing? What are the funding and finance barriers to increasing the affordable housing supply
What are the finance and investment tools that could be used to increase housing affordability (e.g., rent setting, indexation, and regulation; non-profit provision of social and affordable housing; taxation to guide investment in housing)? What are the arguments in favor and against the implementation of these tools?
Speakers: 
Julie Lawson, Adjunct Professor, Centre for Urban Research, RMIT, Editorial Board Member Housing Theory and Society, Lead author of the UN report #Housing2030

Michelle Norris, Professor of Social Policy, Director, Geary Institute for Public Policy, University College Dublin

Grzegorz Gajda, Senior Urban Specialist, Urban Division, Projects Department,  European Investment Bank. Podcast about investing right in housing system in transition with Grzegorz:

https://www.housing2030.org/media/investing-right-in-housing-systems-in-transition/

Katerina Zisimopoulou, Senior Urban Specialist (Architect Engineer), Urban Development Division, Projects Directorate, European Investment Bank
Moderator: Anastasia Bobrova, Cedos analyst and project manager
The event will take place online in Zoom. To join the event and be able to join the discussion, register at: https://cutt.ly/nJzGwRR 
The event will also be livestreamed on Cedos' Facebook page. The video will be posted on the Cedos YouTube channel.
Organized in cooperation and with the financial support of the Black Sea Trust for Regional Cooperation and the European Union; the Prague Civil Society Centre; the International Renaissance Foundation.
Support Cedos
During the war in Ukraine, we collect and analyse data on its impact on Ukrainian society, especially housing, education, social protection, and migration
Support